Twitter is, zoals iedereen die het afgelopen jaar niet onder een steen heeft geleefd wel zal weten, een internetdienst waarbij gebruikers korte berichtjes publiceren. Door de combinatie van webloggen met instant messaging wordt het soms microblogging genoemd. De basisvraag van de dienst is "Waar ben je nu mee bezig?".
Met Twitter sturen gebruikers tekstberichten, zogenaamde tweets, van maximaal 140 karakters lang via SMS, e-mail, IM, de Twitter-website of via een applicatie zoals Twitterific. Deze tweets worden getoond op de gebruikerspagina en eveneens bij andere gebruikers die hebben opgegeven deze te willen ontvangen.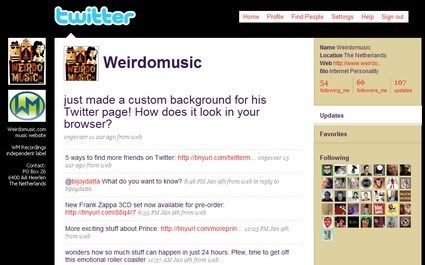 Zelf heb ik ongeveer een half jaar geleden een Twitter-account aangemaakt, maar de laatste weken heb ik de smaak pas echt te pakken gekregen. Voor het promoten van mijn internet-activiteiten of voor het snel krijgen van een reactie van een mede-gebruiker blijkt Twitter erg effectief. Daarbij komt dat er inmiddels ontelbare applicaties en diensten zijn die het leven van een Twitteraar aangenamer maken. Zo worden mijn "tweets" automatisch op mijn Facebook-profiel en op dit weblog gepubliceerd (in het menu rechts) en kan ik via een desktop-applicatie snel switchen tussen verschillende Twitter-profielen en krijg ik een notificatie wanneer een van de mensen die ik volg een nieuw berichtje heeft geplaatst.
Het grappigste is nog wel dat ik volgens Twitterholic inmiddels tot de honderd meest gevolgde Twitteraars van Nederland behoor:

Het hier genoemde aantal van 60 "abonnees" loopt zelfs nog een beetje achter bij de werkelijkheid. Over mijn plaats op de wereldranglijst maak ik me overigens nog niet veel illusies: "Marco Kalnenek is ranked 171,176th on twitterholic! (by followers)".
Wie daar iets aan wil doen, moet me natuurlijk gewoon maar volgen:
http://twitter.com/weirdomusic